The Creativ Team consists of people trained for every kind of event, from professional guide to security personnel.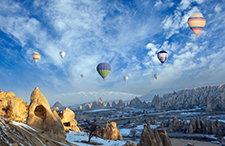 From dinner parties and trip programs to concerts and exhibitions, Creativ offers numerous social program options around the world for any budget size.

During the event, Creativ will provide the transport vehicles needed for participants of any number.
Creativ uses the latest technology to provide highest-performance, event-tailored audio and image quality.
Creativ offers meticulously-thought, creative gift options, suitable for any budget size.